Stakingen in Nepal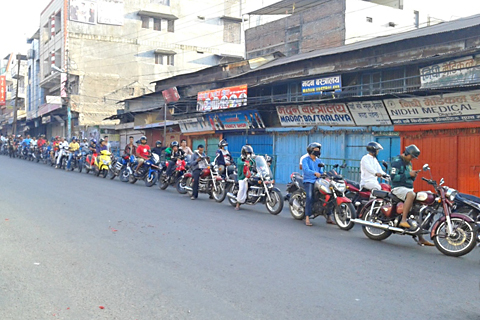 Dharan, lange wachtrij voor benzine
Strikes impact
Madhesi parties have been disturbing against Nepal's new constitution over the last four months, cutting supplies of fuel, medicines and other essential commodities to Kathmandu and other region. Same time the unexpected blockade of India's has made a high shortage of cooking gas, fuel, daily commodities, medicine etc. in Nepal. Children in Madhesi area have been forced to stay out of schools for months. Our projects are also indirectly influenced by these circumstances.
Disturbed in study of children by long strikes and closed schools.
Using firewood to cook food because of high shortage of cooking gas.
Unable to restore the collapsed wall (Duhabi) from long time because of transportation strike. Environment is unsafe because of open wall.
Problems of getting some essential commodities
and long queue to get it.
Dipendra school needs
Extra requirements of Dipendra School (in 2016) for the enhancement of programs and development of the school. 
Extra teacher according to the need of the school
Plenty of small and essential maintenance to be done
Development of child development (nursery) class
Delicate old walls to be repaired
Employing extra person to collect and analyze the data of deprived parents of school for the right decision making and development of children and parents
Meeting, gathering programs of parents and other useful persons and group from society and municipality